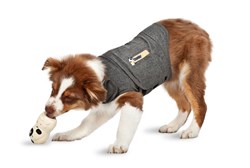 Durham, NC (PRWEB) December 19, 2013
The holidays can be a wonderful time of year for families and friends to get together and celebrate. However, for pets, holidays can pose additional safety threats and spur on anxiety. Many times, dogs and cats can become anxious or fearful of party guests, visitors and unfamiliar decorations such as trees, blinking lights and holiday figures. As a result, negative behavior like clawing, chewing, barking, whining and indoor elimination can arise. ThunderWorks, the makers of the ThunderShirt and pet anxiety experts, provide a variety of solutions to help keep pets calm during the holidays.
The ThunderShirt
With its patented design, the ThunderShirt's gentle, constant pressure can dramatically reduce anxiety in 80 percent of dogs. Anxiety experts believe that pressure has a calming effect on the nervous system and releases calming endorphins or oxytocins. The ThunderShirt for Dogs is available in sizes XXS to XXL. Suggested retail is $39.95. The ThunderShirt for Cats is available in sizes S; M and L. Suggested retail is $39.95. Both products can be personalized with custom embroidery for an additional charge.
The ThunderToy and ThunderTreat

For dogs that need a little bit of an extra distraction from all the hustle and bustle of the holidays, ThunderWorks also offers the ThunderToy and ThunderTreat anti-anxiety combination. Together, the ThunderToy and ThunderTreat work as a thoughtfully designed puzzle-chew toy. Dogs are distracted and stimulated, working through the toy so that it will dispense the ThunderTreat as a reward. The ThunderTreat is made in the USA with natural, calming ingredients such as chamomile and lavender. The ThunderToy is available in two sizes, small and large, and starts at $12.95. The ThunderTreat is available in a 4oz. bag for $7.95, and 8oz. bag for $9.95.
ThunderSpray

The new ThunderSpray calms and comforts pets by mimicking a mother's natural pheromones and is comprised of soothing fragrances of lavender and chamomile. ThunderSpray can be used in two ways: by spraying a single burst in the area where pets spend time, like a car or crate, or in conjunction with the ThunderShirt and sprayed on the neck of the ThunderShirt. The calming pheromones and fragrances will continue to release for an extended period and the liquid will dry stain-free. ThunderSpray is available for both dogs and cats, and retails for $19.95.
In addition to using a ThunderWorks solution, the company offers pet parents the following precautions to keep pets safe throughout the holiday season.
Strategically place decorations.


Do not put lights on a Christmas tree's lower branches. Pets can get tangled up in the lights and they are a potential fire hazard. This goes for ornaments too as they can be a choking and injury hazard if ingested by dogs and cats.
Beware of poisonous plants.

Plants like holly, mistletoe, and poinsettia can be poisonous to dogs and cats. It's important to keep them out of reach of animals.
Seal up leftovers.
Common holiday foods, which include chocolate, chicken bones and fat and candy, can make pets very ill. Try to avoid guests giving table scraps and be sure to clear the table and kitchen promptly.
Give pets their space.

If hosting a holiday party, be considerate that large parties and unfamiliar guests can cause pets to feel scared. Create a space in the home that is away from the action where pets can retreat. Include a bed, their favorite toy and some water so they are comfortable.
Visit http://www.ThunderWorks.com for more information, or if you are a member of the media, contact Kerry Sutherland at K. Sutherland PR, Kerry(at)ksutherlandpr(dot)com or (949) 328-4895 to request a product sample, high-resolution image or interview.
About ThunderShirt and ThunderWorks

Founded in 2009 in Durham, N.C., ThunderShirt's mission is to bring relief to the millions of dogs, cats and their families struggling to cope with anxieties. The ThunderShirt is designed to apply a constant, gentle pressure to a dog or cat's torso creating a dramatic calming effect for most users. ThunderShirt continues to investigate anxiety and fear issues with scientific-based studies and surveys from recognized veterinarians and pet owners. ThunderShirt has already helped millions of dogs and cats across the country and around the world. The company also donates thousands of ThunderWorks products and funding to rescue groups and shelters to help these organizations manage their anxiety cases and find permanent homes.
In recognition of the company's expanding product line into more calming solutions, ThunderShirt has changed its corporate name to ThunderWorks. As always, the company is committed to developing calming pet products that are effective, simple to use and strengthen the bond between pet and pet parent. Together, let's be better humans to our pets. Products are sold at http://www.ThunderWorks.com and by retail stores, veterinarians, trainers and kennels across the country.
View original post here: 
'Tis the Season to Keep Pets Safe! ThunderWorks Wishes All Pet Parents an Anxiety-Free Holiday