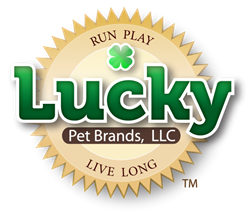 We're excited to be part of a growing community that understands the need for quality pet products.
Crystal Lake, IL (PRWEB) July 22, 2014
Lucky Pet Brands will showcase its new line of heart-shaped dog treats and colorful new packaging at SuperZoo, the country's most popular pet store industry trade show.
The new line of all-American dog treats are rolled then cut and baked to provide durability and help lock in flavor. Lucky Pet Brands' new box packaging will help decrease product breakage and increase space efficiency when shipping. The boxes are made from 100% paperboard and contain 30% recycled, post-consumer waste.
"We're excited to be part of a growing community that understands the need for quality pet products," says Mike Pierce, Co-Founder of Lucky Pet Brands. "Our new heart-shaped dog treats break in half easily to provide pet owners an easy way to portion-control, while the new packaging will make shipping and storage more convenient."
Lucky Pet Brands' Dog Treats come in a variety of nutritious flavors including: Cheese & Bacon, Fruit & Veggie, Peanut Butter & Berries, Low-Fat Apple Cinnamon, and Low-Fat Sweet Potato & Pumpkin.
About Lucky Pet Brands

Lucky Pet Brands has over 15 years of experience in producing and formulating whole food, all-natural pet snacks for cats, dogs, birds and small mammals. Every treat is produced in an FDA approved facility in Northern Illinois and contains the highest quality ingredients 100% sourced in the USA. The company goal is to produce whole food pet snacks that have the perfect balance of taste and nutrition for pets of all sizes. Each formula is created without adding additional sugar, salt, preservatives, by products or gluten. For ordering and general product info contact: info(at)luckypetbrands(dot)com.
About SuperZoo

SuperZoo is the most popular trade show in North America for the pet store industry, attracting thousands of retailers, product suppliers and service providers every year. SuperZoo 2014 will be held at the Mandalay Bay Convention Center in Las Vegas, Nevada, July 22–24. Produced by the World Pet Association (WPA), the show is an important annual event that provides independent pet store owners with the knowledge and resources they need to be successful. WPA is the oldest industry organization promoting responsible growth and development of the companion pet and related products and services. WPA works to inform and educate the general public in order to ensure safe and healthy lifestyles for our animal friends. In addition to producing SuperZoo, WPA is the host of America's Family Pet Expo, the world's largest consumer pet and pet products expo, held annually in Costa Mesa, California, the Atlanta Pet Fair and the Aquatic Experience, held in Chicago, Illinois.
See more here: 
Lucky Pet Brands Will Showcase Premium, Made in USA Dog Treats at SuperZoo in Las Vegas
LAS VEGAS, July 21, 2014 /PRNewswire/ — Petmate, the trusted authority in smart pet care solutions, introduces more than 175 products at SuperZoo 2014, held July 22-24 at the Mandalay Bay Convention Center in Las Vegas. Many of the company's new products have been developed with a keen focus on natural animal behavior and fostering the bond between people and their pets through play.
Petmate will unveil an exclusive cat product line developed with renowned cat expert and animal advocate Jackson Galaxy, star of the Animal Planet's "My Cat from Hell." The Jackson Galaxy Collection by Petmate features a variety of wands, toys, scratchers, tunnels and tents to cater to the ideal cat environment, known to Galaxy fans as "Catification." Each product speaks to natural cat behaviors – Hunt, Catch, Kill, Eat, Groom and Sleep.
"The Jackson Galaxy Collection by Petmate is changing the cat play category by incorporating real-world understanding of cats and their natural instincts," said Petmate CEO Alice Tillett. "The line provides the tools and building blocks for pet families to create the ideal cat play experience for a wide variety of feline personalities, and it caters to the prey-and-play cat lifestyle."
Available to consumers beginning Fall 2014, the line features 25 new products including:
The irregular shapes of Jackson Galaxy Collection Cat Dice™ create an unpredictable bounce to keep cats engaged and ignite raw cat play. The toy can be filled with treats to create a puzzle that offers extra motivation and reward.
With a vibrating mechanism in its body activated by pulling the tail, the Jackson Galaxy Motor Mouse™ offers random movements to maintain a cat's interest and includes a made-in-the-USA catnip pod in its center for added excitement.
Cats can fish kibble or treats out of the Jackson Galaxy Collection Go Fish™ puzzle toy, featuring silicone fish tails that stimulate cats' natural hunting instincts. Dishwasher safe, the tails remove for cleaning and easily rotate to continuously change the puzzle.
The Jackson Galaxy Mojo Maker™, available in an Air Prey or Ground Prey option, features a telescoping wand and an interchangeable toy that allows cat families to direct interactive play. Air Prey is for cats that like to climb tall furniture and chase flying objects, while Ground Prey is for cats that prefer lurking under furniture and chasing anything that goes by.
Designed to encourage a cat's need to stalk and attach to its prey, the Jackson Galaxy Twisted Kicker™ includes made-in-the-USA catnip pods at each end. Available in denim with a sisal center band or in plush velvet.
Created to offer security during play, the Jackson Galaxy Base Camp™ Hub encourages cat play in and around a carrier and features tunnel attachments on three sides.
Pet specialty retailers can get the Jackson Galaxy Shipper by Petmate for greater flexibility in merchandising products in a secondary location.
Galaxy will be in the Petmate booth on July 22 from 1:30–3:30 p.m. He will sign copies of his book "Cat Daddy: What the World's Most Incorrigible Cat Taught Me About Life, Love and Coming Clean" for a suggested donation of $5 to benefit the Nevada SPCA.
Petmate also will introduce new LIGHTPLAY toys, an extension of its popular Chuckit! line. Offering More Ways to Play®, the innovative LIGHTPLAY line of durable, high-visibility, glow-in-the-dark toys features 3D print fabric and fast-charging Max Glow™ rubber that charges under a bright light in less than 10 minutes for up to 30 minutes of early morning or nighttime play.
"The LIGHTPLAY line caters to the 'start early, play late' lifestyle so many pet parents are taking on due to work and family commitments," said Tillett. "Designed to extend fetch time to early mornings or after dark, LIGHTPLAY encourages playtime for when most people are home from work and have time to be active with their pup."
Available to consumers beginning Fall 2014, the line offers a glowing twist on nine of Chuckit!'s most popular dog play products including:
The new Chuckit! Glow-in-the-Dark Launcher – featuring the same no-slobber, hands-free ball pickup as the classic launchers – pairs with the durable Chuckit! Max Glow Ball for a game of nighttime fetch. The launcher is available in three sizes and the ball in four.
Ideal for high-energy dogs, the Chuckit! Max Glow Kick Fetch® is kickable like a traditional soccer ball with a glowing grooved design to allow for easy pickup and slobber-free fun. Available in two sizes.
The Chuckit! Max Glow Roller is a fun chase-and-grab toy that rolls effortlessly – perfect for interactive play.
About Petmate
Founded in 1963, Petmate is the nation's leading maker of innovative products pet families prefer for home, travel and play. Arlington, Texas-based Petmate is the trusted authority in innovative, functional, high-quality pet products including bedding, kennels, dog houses, feeding and watering products, litter maintenance products, toys, collars, leads and travel solutions, available at pet supply retailers nationwide. Petmate also makes pet family favorite brands Chuckit!, Wetnoz, Aspen Pet, JW and more. For more information, visit www.petmate.com. 
About SuperZoo
SuperZoo is the most popular trade show in North America for the pet store industry, attracting thousands of retailers, product suppliers and service providers every year. SuperZoo 2014 will be held at the Mandalay Bay Convention Center in Las Vegas, Nevada, July 22–24. Produced by the World Pet Association (WPA), the show is an important annual event that provides independent pet store owners with the knowledge and resources they need to be successful. WPA is the oldest industry organization promoting responsible growth and development of the companion pet and related products and services. For more information, visit http://www.superzoo.org.
Booth #3073
MEDIA CONTACTS
Sarah Langhorst/Ann Hinshaw
214-379-7000
sarahl@spmcommunications.com
ann@spmcommunications.com
Taken from:  
The Pueblo Convention Center was pet heaven Sunday.
The Pueblo Chieftain's 2014 Pet Expo took place there and drew hundreds of owners and their pets.
Although there were a few cats, dogs dominated the day.
Hundreds of dogs of all shapes and sizes pranced around the convention center floor with their owners as they browsed what the numerous vendor booths had to offer.
A steady line of people had their dogs' picture taken for The Chieftain's annual Weather Dog Hound Up. Those photos will be used on The Chieftain's weather page throughout the year.
One booth that drew a lot of interest from folks featured the American Humane Association's third annual military hero dog award winner Carlos.
Carlos returned home from Afghanistan in 2011 and was adopted by Ruby Ridpath from Colorado Springs.
"I adopted him on Nov. 13 of 2011. I remember the exact day," Ridpath said. "He served in Afghanistan and Iraq. He was an explosives detection dog and did checkpoint work for inspecting vehicles coming into an area where troops are. He also worked with special forces clearing forward areas for our troops to follow behind safely in Afghanistan."
Carlos stood and took pictures with anyone who wanted one.
"He's an absolute wonderful addition to our family," Ridpath said.
Chelsey Burgess, who owns Wind Mountain Dog Training with her husband, was on stage teaching the crowd about dog training.
"I'm showing the benefits of a well-trained dog such as being able to go places with your dog, not having to have special equipment to walk them and making sure they can be social around people and dogs," Burgess said.
Burgess said it was her first year being at the Pet Expo.
"It's awesome interacting with all of the people and showing them the benefits of dog training," she said. "It's a real benefit to get our word out since we are so small. Getting to be around other dog lovers is nice, too."
Numerous contests involving dogs and their owners were held throughout the expo.
One such event, the owner/pet look-alike contest, drew a lot of smiles and laughs from the audience.
Dorothy McDowell was dog-sitting her son's boxer Muhammad and decided to take him to the expo to enter the contest.
McDowell dressed in boxing gloves and walked the stage with her son's boxer earning her second place in the contest.
"I just came up with the idea since he is a boxer dog," McDowell said. "It was a lot of fun."
Excerpt from:  
YARDLEY, Pa., March 18, 2014 /PRNewswire/ — Vetstreet.com and Dr. Marty Becker are pleased to announce the "Becker's Best" winners from this year's Global Pet Expo, held March 12–14, 2014 at the Orange County Convention Center in Orlando, Florida.
Now in its fifth year, Becker's Best awards are given to companies exhibiting at the Global Pet Expo that showcase new, innovative, and solution-based products for dogs and cats that are also a good value.
Dr. Becker's top ten products for this year are as follows:
Dexas H-DuO Collapsible Companion Cup
Kong Glide 'n Seek Cat Toy
Links-It Pet ID Tag Connector
MagicLatch Leash Connection System
Motorola Scout1 Wi-Fi Pet Monitor Camera
PetSafe Auto Trainer
Piddle Place Pet Relief System
Slo-Bowl
Tuggo Dog Toy
Zen Clipper
"Becker's Best awards grew out of the need to serve first-time exhibiters who may not have the resources to promote their products and compete with many of the industry heavy hitters," said Dr. Becker. "We have a group of seasoned veterinarians and pet health professionals who comb the trade show isles looking for first-timers who have a diamond in the rough. We also review many of the industry's more established companies that create some of the most innovative products year after year."
As the pet industry's largest annual trade show, Global Pet Expo showcases thousands of new products throughout four miles of booths.
Read more at: Best New Pet Products of 2014
With new content posted daily, vetstreet.com is the resource for today's pet owner. For more information about the site, visit vetstreet.com.
About Dr. Marty Becker, "America's Veterinarian"
Marty Becker, DVM, was the resident veterinary contributor on "Good Morning America" for 17 years. He currently serves on the board of directors of the American Humane Association and as the organization's chief veterinary correspondent. He is a founding member of Core Team Oz for "The Dr. Oz Show" and a member of the Dr. Oz Medical Advisory Panel. He has written or co-written 24 books that have sold more than 7 million copies, including three New York Times best sellers—one of which is the fastest-selling pet book of all time, Chicken Soup for the Pet Lover's Soul. Find more of his wonderful posts and videos about products, pet medicine, the veterinary life, and the human animal bond on vetstreet.com.
About vetstreet.com
Vetstreet.com is dedicated to connecting pet owners with the most trusted and authoritative pet health information available. The site also features a directory of veterinary practices. Vetstreet.com is a division of VCA Antech, Inc. (WOOF), publisher of HealthyPet magazine. Learn more at www.vetstreet.com.
More:  
PUBLIC RELEASE DATE:

8-Nov-2013
[
| E-mail
]
Share
Contact: Christine Westendorf
ChristineWestendorf@acaai.org
847-427-1200
American College of Allergy, Asthma, and Immunology
Holiday health: Asthma with a side of allergies
Asthma sufferers allergic to cats doubles, making holiday travel challenging
BALTIMORE, MD. (November 8, 2013) People with asthma traveling to pet friendly homes for the holidays may want to pack allergy medication along with their inhaler. A study being presented this week at the American College of Allergy, Asthma and Immunology's (ACAAI) Annual Scientific Meeting reveals the number of people with asthma that are also allergic to cats has more than doubled over an 18 year period.
"From 1976 to 1994, positive allergy skin tests in people with asthma have increased significantly," said Leonard Bielory, MD, ACAAI fellow and study author. "Not only have we found the number of asthma sufferers allergic to cats has more than doubled, but those with asthma are also 32 percent more likely to be allergic to cats than those without asthma."
The study also found those with asthma are more likely to be allergic to several environmental triggers common in the fall, including ragweed, ryegrass and alternaria fungus.
An estimated 60 to 85 percent of people with asthma have at least one allergy, according to ACAAI. However, the allergens in which most are allergic to has not been well researched.
"This study helps us better understand common trends in allergy and asthma, which can lead to improved diagnosis and treatment," said allergist James Sublett, M.D., chair of the ACAAI Indoor Environment Committee. "While it is unknown exactly why there has been an increase in asthma and allergy sufferers, it is thought a number of environmental factors can be responsible."
The holidays can suddenly spur allergy symptoms in people with asthma and those that have never before had allergies. For example, while visiting a relative with cats, a runny nose, sneezing and itchy eyes can occur. Then there is the Thanksgiving Effect, where college students return home to a pet they didn't have symptoms to before and are now allergic.
"Allergies can strike at any age in life, with symptoms disappearing and resurfacing years later" said Dr. Bielory. "Allergies and asthma are serious diseases. Misdiagnoses and inappropriate treatment can be dangerous."
###
For more information about allergies and asthma, and to take a relief self-test, visit AllergyAndAsthmaRelief.org.
The ACAAI Annual Meeting is being held Nov. 7-11 at the Baltimore Convention Center in Baltimore. For more news and research being presented at the meeting, follow the conversation on Twitter #ACAAI.
About ACAAI
The ACAAI is a professional medical organization of more than 5,700 allergists-immunologists and allied health professionals, headquartered in Arlington Heights, Ill. The College fosters a culture of collaboration and congeniality in which its members work together and with others toward the common goals of patient care, education, advocacy and research. ACAAI allergists are board-certified physicians trained to diagnose allergies and asthma, administer immunotherapy, and provide patients with the best treatment outcomes. For more information and to find relief, visit AllergyAndAsthmaRelief.org. Join us on Facebook, Pinterest and Twitter.
---
[
| E-mail
Share
]
Link to article:
CHINA – As cats and dogs in China start to be fed organic food, dressed in trendy vintage-style cotton T-shirts and receive medical care from internationally licensed vets, the status of pets has been elevated to a whole new level, becoming a "second child" in a family, or the only child in DINK partnership.
At the 16th Pet Fair Asia, which began on Thursday in Shanghai's World Expo Exhibition and Convention Center, thousands of pet owners from around the country crowded the 37,000-square-meter venue with rare and not-so-rare but equally cherished "animal babies", and snapped up pricey "daily life necessities".
"The focus is less and less on unusual species and more on gadgets that will help animals live longer and better," said Ji Li, the organizer of the fair, which in past years used to attract attention with the likes of pony-sized alpacas and Bengal cats.
More than 600 exhibitors from 32 countries are participating in the four-day fair with their products. A total of 15,000 people have pre-registered for the annual fair, which charges 100 yuan (S$20.60) per person for entry.
Organizers estimate that visitor numbers this year could exceed the record-breaking 50,000 people last year.
While Bengal cats, priced as high as 100,000 yuan each but not for sale by a Taiwan pet shop, Japanese carp and a horse were the primary focus of the crowds and photographers, pet food, special water, clothes, toys and even memorial service providers were also surrounded by pet owners and distributors.
"The bestsellers are our most expensive kinds of dog food," said Wang Lini, marketing manager of Nature Bridge, one of the top pet food companies in China.
The variety is sold for 180 yuan a 1.5 kg pack and claims to use a Norwegian recipe and ingredients free of additives and preservatives. As a cost comparison, local supermarkets sell Jasmine rice imported from Thailand, considered the best rice by many, for about 60 yuan a kilo.
Visit source:
SINGAPORE, March 26, 2013 /PRNewswire/ — The world's pet markets have been enjoying dramatic growth with higher than ever pet ownership and spending. Traditionally, while the United States and United Kingdom have been the leaders of the world pet market, a number of other countries are emerging as global pet forces. Worldwide sales of pet related products and services reached US$81 billion in 2010, despite the global recession.
(Logo: http://www.prnasia.com/sa/2010/04/19/20100419602891.jpg )
The growth of the growing world pet market can be attributed to the humanization of pets as more cultures view companion animals as beloved family members. China's pet industry, for example, took off within the last five years. Brazil is expected to become one of the largest pet food markets by 2014, second only to the United States. Other vibrant pet market growths are expected from India, Russia, Romania, Morocco, Thailand, South Africa, Indonesia, Slovakia, Venezuela, Mexico, Latin America, Japan and Vietnam. Industry trends suggest that the pet business will continue to boom in the future – from pet food to specialty pet services like grooming, pet sitting, pet friendly travel and more.
Almost 1 in 2 households in the United Kingdom includes a pet. The dog and cat populations in the United Kingdom are estimated to be around 8 million each. In the United States, there are about 77.5 million pet dogs and 93.6 million pet cats. Pet ownership is also increasing in other parts of the world. There is a lot more to the pet industry than dogs and cats. Pet owners today do not limit their connection with animals to dogs or cats alone. A wide range of other animals have found their way into the households and affections of pet lovers. Fish, birds, rabbits and hamsters for instance, have found their way into the households of pet lovers.
Along with the growth of the pet population has been the phenomenal growth of pet superstores, estimated to have grown by 118%. Even in the face of economic downturn, global sales of cat and dog foods continue to grow. The pet product shopper base has continued to migrate into the higher-priced pet specialty channel. The growth of pet products for supermarkets and hypermarkets is estimated at 63%.
It is therefore timely for UBM to launch South East Asia's first international Pet & Accessories trade show in Singapore on May 30, 2013 at the expo and convention centre at the Marina Bay Sands. The Sands Expo and Convention Center is Singapore's largest exhibition and meeting venue, featuring the island's largest hotel. Over a period of 4 days, exhibitors representing all facets of the pet care industry will be marketing and promoting their pet wares to an expected turnout of 5,000 trade and 15,000 public visitors, among them important pet industry decision-makers, buyers and C-level executives from industry representing suppliers, distributors, buyers, wholesalers and retailers.
Some of the key highlights of the show will include a trade seminar where experts from the pet industry will speak about the latest developments in the industry in the ASEAN region and also the global scene, a pet grooming competition, a rabbit competition run along the American Rabbit Breeders' Association standards and a Dog Agility/Obedience competition.
Pet Asia 2013 will be co-located with Aquarama 2013, the 13th edition of the International Ornamental Fish and Accessories Exhibition at Halls B and C of The Sands Expo and Convention Center, the Marina Bay Sands. Aquarama is Asia's biggest international ornamental fish, invertebrates, plants and accessories exhibition organised for the ornamental aquatic industry and its related sectors. It is befitting for Singapore to host the show as the Number One ornamental fish exporting country which accounts for 20.3% of the world's total ornamental fish export value in 2008 (US$339.533million). The two shows will span an area of 8,310 sqm and house some 200 vendors from all over the world.
The show is open to the trade from 10am to 6pm on May 30 and 31, 2013 and from 10am to 1pm on June 1. Members of the public can visit the show from 1pm to 8pm on June 1 and from 10am to 7pm on June 2, 2013. Adults will need to pay only S$8 to visit both shows. It is free for children below 12 years of age.
About UBM Asia (
Owned by UBM plc listed on the London Stock Exchange, UBM Asia is Asia's leading exhibition organiser and the biggest commercial organiser in mainland China, India and Malaysia. Established with its headquarters in Hong Kong and subsidiary companies across Asia and in the US, UBM Asia has a strong global presence in 25 major cities with 29 offices and over 1,200 staff.
With a track record spanning over 30 years, UBM Asia operates in 19 market sectors with 160 dynamic face-to-face exhibitions, 75 high-level professional conferences, 28 targeted trade publications, 18 round-the-clock vertical portals and virtual event services for over 1,000,000 quality exhibitors, visitors, conference delegates, advertisers and subscribers from all over the world. We provide a one-stop diversified global service for high-value business matching, quality market news and online trading networks.
UBM Asia has extensive office networks in China, Southeast Asia and India, three of the world's fastest growing B2B events markets. UBM China has 11 offices in the major cities in mainland China, including Beijing, Shanghai, Guangzhou, Hangzhou, Chengdu and Shenzhen, where we organise more than 60 exhibitions and conferences. In ASEAN, UBM Asia operates from its offices in Malaysia, Thailand, Indonesia, Singapore, Vietnam and the Philippines with over 50 events in this region. UBM India teams in Mumbai, New Delhi, Bangalore, Chennai and Hyderabad organise 20 exhibitions and 60 conferences every year across the country.
For more details on Pet Asia 2013, visit its website at www.petasia.com.sg or contact the Project Team.
Team PET ASIA
Ms. Iman Tam, Project Executive, iman.tam@ubm.com( mailto:iman.tam@ubm.com ), +65-6592-0889
Ms. Doris Woo, Sales Manager, doris.woo@ubm.com( mailto:doris.woo@ubm.com ), +65-6592-0887
Ms. Jennifer Lee, Project Manager, jennifer.lee@ubm.com( mailto:jennifer.lee@ubm.com ), +65-6592-0891
Media Enquiries
Nalini Naidu
Email: nalini.naidu@imsg.sg( mailto:nalini.naidu@imsg.sg ) Mobile: +65-9633-3198
Dean Johari
Email:
dean.johari@imsg.sg( mailto:dean.johari@imsg.sg ) Mobile: +65-9697-4464
Scarlett Yong
Email:
scarlett.yong@imsg.sg( mailto:scarlett.yong@imsg.sg ) Mobile: +65-8138-8520
Source UBM Asia
Continue reading:  
South East Asia's First International Pet & Accessories Show
PROVIDENCE, R.I. (AP) — An international cat fancier organization threatened to move next year's convention out of Rhode Island on Monday following a dispute with police over missing feline health certificates.
Vickie Fisher, president of The International Cat Association, said state environmental police frightened several pet owners Saturday when they asked to see their animals' health and rabies certifications at the Rhode Island Pet Show. She said some owners left the event at the Rhode Island Convention Center because they feared the armed officers would seize their animals.
"If people show up with Tasers and guns … and are making threats, people are going to protect their family and their cats," said Fisher, who did not attend the Providence show. "We have some members now that are saying 'I'm not going back to Rhode Island.'"
Fisher said the incident will prompt her organization to reconsider plans for next year's annual convention, which happens to be scheduled in Providence.
The officers from the state's Department of Environmental Management were checking to make sure the animals had up-to-date rabies and health certifications, according to state veterinarian Scott Marshall. Marshall said there have been problems with compliance at earlier pet shows and the event's organizer was warned last week that police would be checking the paperwork. State law requires animals imported into the state for display to have current health and rabies certifications.
While most of the dog owners at the show provided the paperwork, Marshall said, several cat owners did not. The police had the authority to seize the animals or issue citations but chose not to, Marshall said.
"Very few were compliant, very few were cooperative," he said. "They immediately threatened to lawyer up… I thought we showed great restraint."
Fisher said members of her group would never exhibit a sick cat and that the state law requiring health certificates of cats on display is "misguided." Her organization released a statement over the weekend that the incident "has made it apparent to many of our members that Rhode Island is not a pet friendly state."
Marshall, however, said the laws are meant to protect animals as well as people.
"We're animal lovers," he said. "But we're also lovers of public health."
Source: