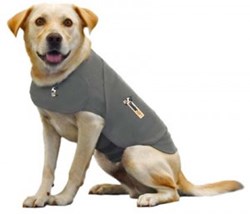 The holidays, while fun for humans, can be a major trigger for anxiety in our pets.
Durham, N.C. (PRWEB) December 26, 2013
As pet parents celebrate the arrival of a New Year, ThunderWorks reminds all pet parents that New Year's Eve festivities can contribute to increased stress and anxiety in our dogs and cats. Particularly loud noises from celebratory fireworks, banging pots and pans and party poppers can seriously scare household pets, causing them to act destructively, run away and exhibit a myriad of negative behaviors which includes: chewing, clawing, whimpering, and indoor elimination. The ThunderShirt provides a safe, natural and simple solution to anxiety-ridden dogs and cats, and has been recommended for years by veterinarians and trainers nationwide specifically for use during New Year's Eve fireworks displays.
"The holidays, while fun for humans, can be a major trigger for anxiety in our pets," said Phil Blizzard, founder of ThunderShirt and CEO of ThunderWorks. "Pets are thrown off of their usual routines which is why a calming tool like the ThunderShirt can truly benefit their overall well-being during the parties, New Year's Eve countdowns and noise."
With its patented design, the ThunderShirt's gentle, constant pressure is proven to dramatically reduce anxiety in 80 percent of dogs. Anxiety experts believe that pressure, similar to the idea of swaddling an infant baby, has a calming effect on the nervous system and releases calming endorphins or oxytocins. The ThunderShirt for Dogs is available in sizes XXS to XXL. Suggested retail is $39.95. The ThunderShirt for Cats is available in sizes S, M and L. Suggested retail is $39.95. Both products can be personalized with custom embroidery for an additional $10 charge online at http://www.ThunderWorks.com.
In addition to using ThunderShirt, the company offers pet parents an array of proven pet anxiety and stress product solutions. For added distraction, the ThunderToy and ThunderTreat combination work as a thoughtfully designed puzzle-chew toy. Dogs will remain calm and distracted while working through the toy so that it dispenses the ThunderTreat as the reward. The ThunderToy is available in two sizes, small and large, and starts at $12.95. The ThunderTreat is available in a 4oz. bag for $7.95 and an 8oz. bag for $9.95.
The ThunderSpray calms and comforts dogs and cats by mimicking a mother's natural pheromones and is comprised of soothing fragrances of lavender and chamomile. ThunderSpray can be used in two ways: by spraying a single burst in the area where pets spend time, like a car or bed, or in conjunction with the ThunderShirt and sprayed near the shirt's collar. The calming pheromones and fragrances will continue to release for an extended period and the liquid will dry stain-free. ThunderSpray is available for both dogs and cats, and retails for $19.95.
In addition to these effective solution products that can be purchased online at http://www.ThunderWorks.com, the company also reminds pet parents this New Year's Eve to:
1. Make a safe space for pets. If hosting a New Year's Eve party, create a private space for a pet to retreat to- should the unfamiliarity of party guests and decorations pique anxiety. This can be a crate or a room in the house where they feel comfortable. Be sure to keep them inside and away from the noise.
2. Properly ID All Pets. Ensure pets have up-to-date identification in case he/she runs away if startled by New Year's Eve fireworks or noisemakers. ID can help pets be returned to their owners safely.
3. Try distraction methods. Puzzle toys, like the ThunderToy can help dogs take their mind off of what is scaring them and focus it on something more productive.
4. Avoid bringing pets along. Don't take pets to events that involve fireworks or noisemakers. They are better off being left at home.
5. Don't scold a scared pet. This will scare and confuse a dog or can, and reinforces fearful behaviors.
These tips combined with the use of the ThunderShirt and supporting ThunderWorks products if needed can improve your relationship with your pet, eliminating the need for last minute training or medication on this New Year's Eve.
If you are a member of the media and would like more information, to request a product samples or expert interview, please contact Kerry Sutherland at K. Sutherland PR, Kerry@ksutherlandpr.com or 949-328-4895.
About ThunderShirt and ThunderWorks
Founded in 2009 in Durham, N.C., ThunderShirt's mission is to bring relief to the millions of dogs, cats and their families struggling to cope with anxieties. The ThunderShirt is designed to apply a constant, gentle pressure to a dog or cat's torso creating a dramatic calming effect for most users. ThunderShirt continues to investigate anxiety and fear issues with scientific-based studies and surveys from recognized veterinarians and pet owners. ThunderShirt has already helped millions of dogs and cats across the country and around the world. The company also donates thousands of ThunderWorks products and funding to rescue groups and shelters to help these organizations manage their anxiety cases and find permanent homes.
In recognition of the company's expanding product line into more calming solutions, ThunderShirt has changed its corporate name to ThunderWorks. As always, the company is committed to developing calming pet products that are effective, simple to use and strengthen the bond between pet and pet parent. Together, let's be better humans to our pets. Products are sold at http://www.ThunderWorks.com and by retail stores, veterinarians, trainers and kennels across the country.
Link:
"Ring in 2014 with Fun… Not Pet Anxiety," Says ThunderWorks