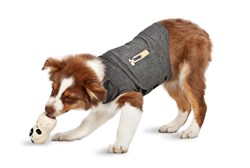 Durham, N.C. (PRWEB) October 25, 2013
Known as the second busiest day of the year at animal shelters, filled with dogs and cats running away from their homes trying to escape the spooky sounds, décor and costumes, Halloween is especially scary for our pets.
As the leaders in pet stress and anxiety product solutions, ThunderWorks takes this timely holiday as an opportunity to remind and urge pet parents to take responsible precautions now to ensure our dogs and cats keep as clam, happy and safe as possible this Halloween.
"Although we can enjoy the haunting festivities during Halloween, knowing that it's just for fun, not for real- our pets simply don't share that same understanding," said Phil Blizzard, founder of ThunderShirt and CEO of ThunderWorks. "Dogs and cats are prone to anxiety anyway, so it's especially a problem when it's provoked by intentionally scary and unfamiliar noises, increased activity in or around your home, costumes and more."
Pets don't need to endure anxiety and stress when a variety of effective, simple solutions are available. Specifically, thousands of veterinarians and trainers nationwide use and recommend ThunderWork's premiere product- the ThunderShirt. Since 2009, this patented, proven solution has been reducing anxiety among millions of dogs and cats around the world. With its gentle constant pressure, the ThunderShirt has a dramatic calming effect for dogs and cats if they are anxious or fearful. Similar to the effect swaddling has on a newborn baby; the most common anxiety triggers in our pets are relieved due to the ThunderShirt's unique design which assists in releasing calming hormones like endorphins or oxytocins. The ThunderShirt for Dogs is available in sizes XXS-XXL, and in the company's signature Heather Grey, Blue Polo, or Pink Polo colors. The ThunderShirt for Cats is available in sizes S, M and L and Heather Grey only. Starting at $39.95, the ThunderShirt can also be custom embroidered for an additional $10.
For dogs that need a little bit of an extra distraction from all the hustle and bustle of Halloween, ThunderWorks also offers the ThunderToy and ThunderTreat anti-anxiety combination. Together, the ThunderToy and ThunderTreat work as a thoughtfully designed puzzle-chew toy. Dogs are distracted and stimulated, working through the toy so that it will dispense the ThunderTreat as a reward. The ThunderTreat is made in the USA with natural, calming ingredients such as chamomile and lavender. The ThunderToy is available in two sizes, small and large, and starts at $12.95. The ThunderTreat is available in a 4oz. bag for $7.95, and 8oz. bag for $9.95.
Although it's recommended that your pets be kept in a safe, quiet room of your house during trick-or-treating, for those pet parents who prefer to bring fido along, ThunderWorks also offers the ThunderLeash. This award-winning leash is a simpler "no pull" solution for your dog. Finally, pet parents can enjoy a hassle free walk with overexcited dogs without the need for complicated harnesses or head collars, making the experience more positive for everyone. Recommended and extensively tested by professional dog trainers, the ThunderLeash can be used as a standard leash (hooked onto a standard dog's collar), can be quickly and easily converted to a "no pull" harness configuration any time pulling becomes an issue. Pet parents will simply wrap the leash around their dog's torso and allow the safe pressure caused by their pulling to reduce their desire to pull. There's no standard harness required, making this patent-pending design very quick and easy to put on and take off the dog. The ThunderLeash is available in two sizes, small and large, and retails for $29.95.
The new ThunderSpray calms and comforts pets by mimicking a mother's natural pheromones and is comprised of soothing fragrances of lavender and chamomile. ThunderSpray can be used in two ways: by spraying a single burst in the area where pets spend time, like a car or crate, or in conjunction with the ThunderShirt and sprayed on the neck of the ThunderShirt. The calming pheromones and fragrances will continue to release for an extended period and the liquid will dry stain-free. ThunderSpray is available for both dogs and cats, and retails for $19.95.
In addition to finding the best pet stress and anxiety solution product for your pet, ThunderWorks also reminds pet parents:
Keep Halloween candy out of your pet's reach. Candy and chocolate consumption can be harmful to pets when ingested.
Be weary of costumes. Uncomfortable fabrics or constrictive outfits can cause pets unnecessary anxiety and stress or make it hard for them to move, breathe, bark or meow.
Make sure all cords and wires from lights and decorations are safely away from your pets. If chewed, pets can suffer cuts, burns or shocks.
When opening the door for trick-or-treaters, take care that your cat or dog doesn't dart outside.
Don't forget ID's! Make sure your dog or cat has proper identification. If for any reason your pet escapes and becomes lost, a collar and tags and/or a microchip is key.
If you are a member of the media and would like more information about these Halloween Pet Safety Tips, ThunderWorks, or any of the products discussed, please contact Kerry Sutherland at K. Sutherland PR, Kerry(at)sutherlandpr(dot)com or (949) 328-4895.
About ThunderShirt and ThunderWorks
Founded in 2009 in Durham, N.C., ThunderShirt's mission is to bring relief to the millions of dogs, cats and their families struggling to cope with anxieties. The ThunderShirt is designed to apply a constant, gentle pressure to a dog or cat's torso creating a dramatic calming effect for most users. ThunderShirt continues to investigate anxiety and fear issues with scientific-based studies and surveys from recognized veterinarians and pet owners. ThunderShirt has already helped millions of dogs and cats across the country and around the world. The company also donates thousands of ThunderWorks products and funding to rescue groups and shelters to help these organizations manage their anxiety cases and find permanent homes.
In recognition of the company's expanding product line into more calming solutions, ThunderShirt has changed its corporate name to ThunderWorks. As always, the company is committed to developing calming pet products that are effective, simple to use and strengthen the bond between pet and pet parent. Together, let's be better humans to our pets. Products are sold at http://www.ThunderWorks.com and by retail stores, veterinarians, trainers and kennels across the country.
Online: thunderworks.com

Facebook: facebook.com/Thundershirt

Twitter: @Thundershirt

Pinterest: pinterest.com/Thundershirt

Instagram: @ThunderWorks
Source:
Reduce Halloween Howlin' & Pet Stress with ThunderWorks