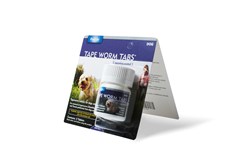 "We are a health-related products company for pets, and the label shift reflects that," says Brian Reardon, ProLabs. "Purchasing ProLabs products gives pet owners a sense of accomplishment. They know they are contributing to the well-being of their pets."
St. Joseph, Mo. (PRWEB) October 30, 2013
No pet owner wants to find unsightly tapeworms near their pet's tail, but where fleas exist, there can also be tapeworms – but unlike other types of worms, tapeworms must be treated with products containing different active ingredients.
Before Tape Worm Tabs were introduced, pet owners had to see their veterinarian and wait for a prescription product to treat tapeworms, but ProLabs offers the veterinarian-quality and FDA-approved tapeworm product available without a prescription, called Tape Worm Tabs®. Shoppers at local specialty pet retailers looking for this popular product for their dogs and cats will now find an updated package and a subtle switch from the Tradewinds trademark to ProLabs.
Brian Reardon, business unit manager for companion animals, ProLabs, says the shift to the new package design and the repositioning of the full line of ProLabs products from Tradewinds to ProLabs began several months ago.
"Consumer research indicated we could reposition the line and really focus on the professional-grade, veterinarian-quality aspects of the products that set us apart. We are a health-related products company for pets, and this shift reflects that," says Reardon.
Many consumers are familiar with the Tape Worm Tabs® product for dogs and cats because they treat both types of tapeworms at veterinarian-quality levels at home, and can be purchased from several specialty pet stores. Aside from the new Univac products that will be launched in the coming year, all other ProLabs products have already been repositioned with new packaging and the ProLabs brand name.
Tape Worm Tabs® are the first FDA-approved over-the-counter treatment containing praziquantel, the most recommended de-wormer for tapeworm treatment and control. It is 100 percent safe and effective in ridding dogs and cats of both types of tapeworms, and is easily administered orally by tablet as-is or mixed into food. For cats, feline Tape Worm Tabs is the only FDA approved product on the OTC market to treat tapeworms.
"Tape Worm Tabs® are the same great product with an updated and refreshed product look," says Reardon. "ProLabs is a cutting-edge pet health company that empowers pet owners, allowing them to play a more active role in their pet's health care. Our products are made for engaged pet owners who want to make informed pet health care decisions on their own.
ProLabs offers several clinically proven, efficacious and safe OTC products that meet or exceed the level of quality found in veterinarian products. For the past twenty years, the company has maintained a promise of innovation with science-based pet products that are supported by accessible, caring and knowledgeable veterinary professionals.
"Purchasing ProLabs products gives pet owners a sense of accomplishment, because they know they are contributing to the well-being of their pets. ProLabs puts pet owners in control of their pet health decisions," adds Reardon.
From joint health supplements to ear care, tapeworm treatments, home vaccinations and skin treatments, ProLabs is a leader in veterinarian-quality products for dogs and cats. With ongoing evaluation by practicing veterinarians and clinically-proven scientific research, ProLabs maintains a standard of the highest quality and effectiveness for pet owners. For more information, visit http://www.prolabspets.com.
Jump to original:  
ProLabs Reveals New Look for the Only Vet-Quality, Non-Prescription Tapeworm Tab Pet Owners Can Use at Home; Reflects …