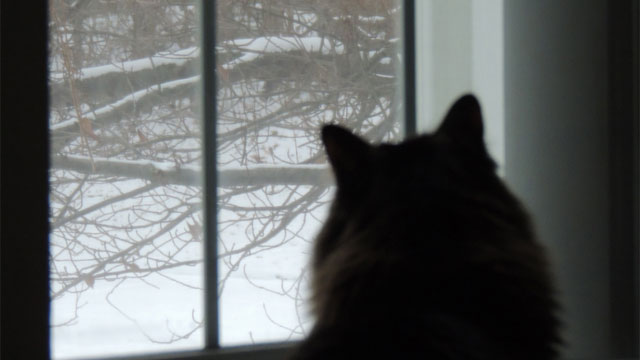 Oliver the cat enjoying watching the flakes fly in Redding.
HARTFORD, CT (WFSB) –
As temperatures fall over the next few days, veterinarians are reminding pet owners to keep those four legged friends inside.
Dr. Satyender Valipe said pet owners should "minimize going out with the pets if possible."
Small dogs are especially vulnerable in the cold, Valipe said.

If you do have an outdoor pet, Valipe gave the following tips:

Make sure they have a warm shelter
Check on their water dish to be sure it doesn't freeze over
Double their food to give them extra energy.
Valipe said if it's too cold for you outside, it's too cold for your pet.
Cats and other small animals might crawl up into your car to stay warm, Valipe said. So in the morning if people have time, they are advised to bang on the hood of their cars and check around to make sure nothing crawled up inside before starting the car.
"They can die," Valipe said. "They can get burned, several of those are treated here."
Puppies and older pets are the most vulnerable to the cold, and should not be outside alone.
Other common wintertime injuries are sickness from toxic antifreeze or de-icers, and sore paws from ice and salt.
Stay with Channel 3 Eyewitness News for the latest information on Winter Storm Bethany.
Copyright 2014 WFSB (Meredith Corporation). All rights reserved.
Source:
Pets at risk during cold weather just like humans