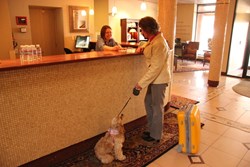 We like to think of ourselves as the pet concierge for the town. We're here to give referrals and offer support to pets and their owners.
Glenwood Springs, Colo. (PRWEB) February 13, 2014
Vacationing with pets is becoming increasingly popular as more people choose to take their cats or dogs on their getaway rather than leave them in a kennel or with a pet-sitter. According to the Travel Industry Association of America, about 30 million people travel with pets each year. For the best possible experience, choosing a destination that embraces pets is essential. Glenwood Springs has a dozen lodging choices that welcome dogs and cats, as well as a dog park for canine socializing and miles of trails appropriate for exploring with a four-footed companion.
In addition to these amenities, High Tails, a business that has offered doggy daycare, retail and grooming services for a decade, recently opened a new location in downtown Glenwood Springs. "We like to think of ourselves as the pet concierge for the town. We're here to give referrals and offer support to pets and their owners," said Laurie Raymond, owner of High Tails. She offers this advice for traveling pet-owners:
Always travel with your pet's vaccination history and your vet's contact information.
Bring a traditional leash. Retractable leashes can be unsafe in certain instances; a sturdy, traditional leash is ideal for travel.
Plan ahead. Dogs are not allowed on the Hanging Lake trail, so if you're planning a hike there, make arrangements for your dog ahead of time.
Crate your dog in the hotel room only if the hotel permits it and your dog is accustomed to crating before your trip. Don't buy a new crate for the trip and expect him to love it while you're gone all day.
Know your dog. If your dog is anxious, don't leave him alone all day; if your dog is not physically fit, don't take him on a six-hour mountain bike ride; if your dog has tender feet, think about his comfort on hot pavement or cold snow.

Be a pet-friendly ambassador. Show others how traveling with pets is done. Pick up after your dog. Don't let him bark excessively in the hotel. If he's a messy eater, put his water and food bowls in the hotel bathroom where it's easier to clean up.
High Tails offers doggy daycare and grooming services at their West Glenwood Springs location six days per week and by appointment on Sundays. In addition to pet food and other necessities, the downtown store carries unique products for traveling pets. Among Raymond's favorites are doggy car seats for safe auto travel, compact discs with music proven to calm anxious animals, ThunderShirts that are especially useful during the spring and summer thunderstorm season and a product called Musher's Secret, a protective wax for paws. Petco in the Glenwood Meadows shopping center also offers a variety of retail pet products and grooming services.
According to Lisa Langer, vice president of tourism marketing for the Glenwood Springs Chamber Resort Association, "Glenwood Springs certainly is a pet-friendly city. With the exception of Hanging Lake, dogs are welcome on hiking and biking trails, downtown businesses often put out water bowls for dogs during the warmer months and we have a wide variety of hotels that welcome canine and feline pets."
Glenwood Springs offers numerous pet-friendly lodging establishments; be sure to contact the hotel before reserving a room to find out their specific pet policy. Accommodations that welcome pets include the Hotel Denver, the Hotel Colorado, the Residence Inn by Marriott, the Caravan Inn, the Glenwood Motor Inn, the Ramada Inn & Suites, Hotel Glenwood Springs, Red Mountain Inn, Quality Inn & Suites, the Starlight Lodge, Glenwood Canyon Resort and Ami's Acres Campground.
About Glenwood Springs
Glenwood Springs is located between Aspen and Vail, 165 miles west of Denver and 90 miles east of Grand Junction on Interstate 70 off Exit 116. Glenwood Springs is home to many attractions and amenities, including Hanging Lake, Glenwood Caverns Adventure Park, Glenwood Hot Springs, Yampah Vapor Caves and Sunlight Mountain Resort. For more information about Glenwood Springs, Colorado, call 970-945-6589 or go to http://www.visitglenwood.com/. A complete press kit, press releases and downloadable photos are available at http://www.visitglenwood.com/media.
Media Contacts:

Lisa Langer, Vice President of Tourism Marketing

Glenwood Springs Chamber Resort Association

970-230-9035

lisa (at) glenwoodchamber (dot) com

or

Vicky Nash, Public Relations Representative

Resort Trends, Inc. – media communications for the travel & tourism industry

970-948-4923

Vicky (at) resorttrends (dot) com
Continued here:
New Glenwood Springs Store Adds to Pet-Friendly Atmosphere of Colorado Town