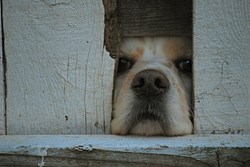 Even when an owner seems to do everything right, a pet can still go missing….
Reston, VA (PRWEB) January 06, 2014
Most people believe their dog or cat is never going to run away. However, according to the National Council of Pet Population Study and Policy and National Humane Society, every year 5 to 10 million animals disappear from their owners. Of those lost, less than 5% of cats get returned and less than 40% of dogs get returned. MissingCritters.com discusses how and why pets go missing and suggest five simple steps to help locate a lost dog or lost cat.
Unfortunately, pets do not understand the meaning of "running away" when they go missing. No matter how well an owner keeps the pet contained, there is a possibility that the pet can get loose. Even when an owner seems to do everything right, a pet can still go missing, which is a hardship on both the pet and the owner.
HOW ANIMALS ESCAPE
Often times when people post their lost pets on MissingCritters.com, they explain that they are conscientious owners who take precautions with their pet. This is probably true. The blame for a lost pet is usually a haphazard circumstance.
Common reasons for missing pets include: animals slipping their collar off, a child or house visitor leaving a door open, a window left open, or a screen that is loose. There are often many explanations regarding fences: animals digging under a secure fence, running through an invisible fence, pushing through a rotted fence board, or someone leaving a gate open and allowing the animal to escape.
WHY ANIMALS RUN AWAY


Beloved pets do not go missing on purpose. Typically, a lost pet wanders away out of natural curiosity; becomes scared away by a loud noise, person, or animal; wanders away when pursuing another of its kind; pursues another animal with its predator instincts; or a natural predator pursues your pet. Only in abuse cases, does a pet mean to run away.
WHAT TO DO
There are a few easy steps that can maximize the chances of a lost dog or lost cat's safe return.

1. BE PREPARED. Have your pet wear an ID tag on their collar and always have a pet registered with a microchip that contains up-to-date contact information.

2. SEARCH IMMEDIATELY. The instant you know your pet is missing, physically search the nearby neighborhoods from where your pet escaped. Typically, a cat will hide very close by without approaching the owner or meowing. A dog may be wandering the neighborhood exploring new smells and sites.

3. POST SIGNS. While it may seem old-fashion, after an unsuccessful search of the neighborhood, hang signs throughout the neighborhoods. A friendly cat may actually be in a neighbor's house. A dog may be in someone's garage while the neighbor is searching for its owner, not knowing it's you.

4. VISIT THE SHELTER EVERY OTHER DAY. There is a short window before a sheltered animal is removed (3 to 7 days). The window of time begins when the animal is brought in, so visiting every other day increases an owner's chance of finding the pet. Do not just leave contact information with the shelter.

5. USE THE INTERNET. Search and post on websites and through social media platforms. Many are free – Online Community Bulletin Boards, Craigslist, MissingCritters.com, Facebook, and Twitter. MissingCritters.com allows pre-registration so that you only need to change your pet's status if the pet goes missing.
Pet owners may treat their pets like beloved people, but they are domesticated animals. Remember, calling for a pet by name may not be good enough when searching. If a lost pet has gone into "survival mode," which can happen quickly with a cat or over time with a dog, the lost pet may not respond if it sees or hears the owner. The owner may have to retrieve the lost dog or cat physically and gently with care.
About Missing Critters:

MissingCritters.com is a website founded with the vision: What if all lost and found animals could instantly be posted on a public bulletin board with almost no effort and at absolutely no charge? Our approach is simple, yet elegant – Use a cell. Click a pic. Save a stray! Companies interested in advertising to support the site can contact Stuart Harris at SHarris(at)MissingCritters(dot)com.
Taken from – 
MissingCritters.com Discusses How, Why, and What To Do When a Pet Goes Missing