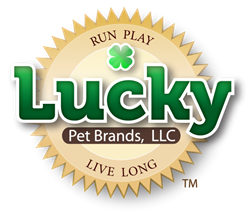 We're excited to be part of a growing community that understands the need for quality pet products.
Crystal Lake, IL (PRWEB) July 22, 2014
Lucky Pet Brands will showcase its new line of heart-shaped dog treats and colorful new packaging at SuperZoo, the country's most popular pet store industry trade show.
The new line of all-American dog treats are rolled then cut and baked to provide durability and help lock in flavor. Lucky Pet Brands' new box packaging will help decrease product breakage and increase space efficiency when shipping. The boxes are made from 100% paperboard and contain 30% recycled, post-consumer waste.
"We're excited to be part of a growing community that understands the need for quality pet products," says Mike Pierce, Co-Founder of Lucky Pet Brands. "Our new heart-shaped dog treats break in half easily to provide pet owners an easy way to portion-control, while the new packaging will make shipping and storage more convenient."
Lucky Pet Brands' Dog Treats come in a variety of nutritious flavors including: Cheese & Bacon, Fruit & Veggie, Peanut Butter & Berries, Low-Fat Apple Cinnamon, and Low-Fat Sweet Potato & Pumpkin.
About Lucky Pet Brands


Lucky Pet Brands has over 15 years of experience in producing and formulating whole food, all-natural pet snacks for cats, dogs, birds and small mammals. Every treat is produced in an FDA approved facility in Northern Illinois and contains the highest quality ingredients 100% sourced in the USA. The company goal is to produce whole food pet snacks that have the perfect balance of taste and nutrition for pets of all sizes. Each formula is created without adding additional sugar, salt, preservatives, by products or gluten. For ordering and general product info contact: info(at)luckypetbrands(dot)com.
About SuperZoo
SuperZoo is the most popular trade show in North America for the pet store industry, attracting thousands of retailers, product suppliers and service providers every year. SuperZoo 2014 will be held at the Mandalay Bay Convention Center in Las Vegas, Nevada, July 22–24. Produced by the World Pet Association (WPA), the show is an important annual event that provides independent pet store owners with the knowledge and resources they need to be successful. WPA is the oldest industry organization promoting responsible growth and development of the companion pet and related products and services. WPA works to inform and educate the general public in order to ensure safe and healthy lifestyles for our animal friends. In addition to producing SuperZoo, WPA is the host of America's Family Pet Expo, the world's largest consumer pet and pet products expo, held annually in Costa Mesa, California, the Atlanta Pet Fair and the Aquatic Experience, held in Chicago, Illinois.
See more here: 
Lucky Pet Brands Will Showcase Premium, Made in USA Dog Treats at SuperZoo in Las Vegas