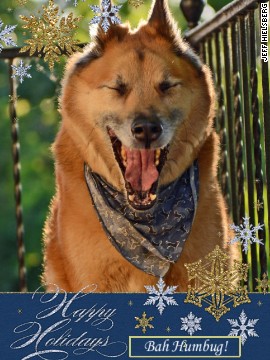 The Hielsbergs' 2013 holiday card, featuring Dooz.
Meredith Tollison's first PhotoShop solution to the "happy family portrait" holiday card.
Jacob Stickann goofs off with his cats, left, before posing for his 2012 holiday card, right.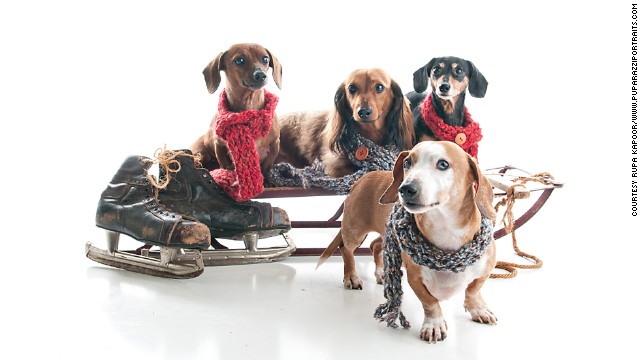 Puparazzi Portraits studio, where this sled is a recurring holiday prop." border="0″ height="360″ id="articleGalleryPhoto004″ style="margin:0 auto;display:none" width="640″/>Rupa Kapoor photographed a family of Dachshunds at her
Puparazzi Portraits
studio, where this sled is a recurring holiday prop.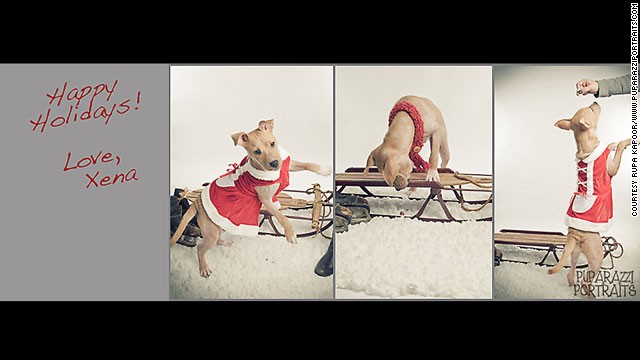 Puparazzi Portraits photo session create a holiday card." border="0″ height="360″ id="articleGalleryPhoto005″ style="margin:0 auto;display:none" width="640″/>Shots from Xena the warrior puppy's
Puparazzi Portraits
photo session create a holiday card.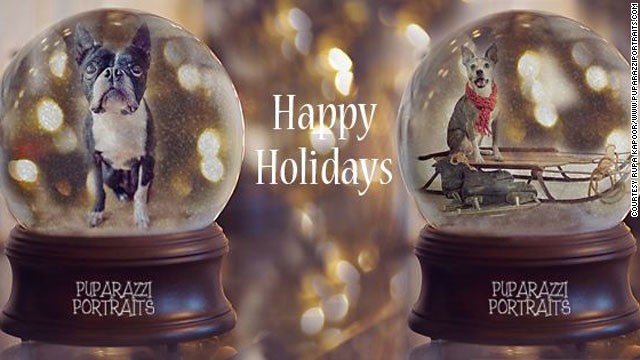 Facebook page, she raised more than $300 for the organization last year. She will be creating the snow globe images again this year." border="0″ height="360″ id="articleGalleryPhoto006″ style="margin:0 auto;display:none" width="640″/>Kapoor created digital images of people's pets in snow globes last year in order to raise money for the Alabama Boston Terrier Rescue group. Via her
Facebook page
, she raised more than $300 for the organization last year. She will be creating the snow globe images again this year.
Kristen Patten helps Col. Mustard the cat pose for a holiday card photo. Col. Mustard is not laughing.
Kristy Blanchfield attempts to pose her cat Ron, as her other cat, Shiva, looks on with concern.
Keith Piasecki poses for his family's 2013 Christmas card newsletter with, clockwise from left, Tiki, Cayenne, Sneaky Poof, Prescious, Freddy Mercury and Joon. Squint hard and you can see Bert and Ernie, the clown fish, in the tank behind Piasecki's head.
Kat Kinsman's whippet, Morgane, dons string lights for a 2008 holiday portrait. Morgane is always oddly calm for pictures and seems to know she has no bad angles, Kinsman said.
CNN producer Ann Hoevel and Dan Campbell sent out this photo of their convincing corgi, Belvedere, for the 2012 holiday season.
Baxter the beagle, left, and Ted the Australian shepherd mix, right, pose with Santa for Michael Ryan and Michelle Rice's holiday card.
Terry Nagurney shakes hands with Santa with his dog, Abby, on his lap. This photo was taken at a charity event in Atlanta PetSmart to benefit Furkids, Georgia's largest, no-kill, cage-free cat shelter.
Carissa Rhea, right, poses with Santa and her cats Wall-E and Eve during the Furkids charity event in 2010.
Holiday pets
Holiday pets
Holiday pets
Holiday pets
Holiday pets
Holiday pets
Holiday pets
Holiday pets
Holiday pets
Holiday pets
Holiday pets
Holiday pets
Holiday pets
Holiday pets
STORY HIGHLIGHTS
Pets can be difficult to wrangle for a traditional family holiday card portrait

With creative photography and editing, including Fido in the photo is possible
Capturing a pet's personality is worth the hassle, some owners say
A professional pet photographer says stay calm and keep pets focused
(CNN) — The first time Meredith Tollison's family attempted to take a group holiday photo, the effort ended in blood, sweat and tears.
Dressed up in jeans and white shirts, the Tollisons sat on the front steps of their Tupelo, Mississippi, home and brought their two cats and two dogs out for the happy family portrait.
"Our cats did not like being outside, especially next to the dogs, and we had a 5- or 6-year-old kid who was hating every second of it," Tollison said.
Don't miss out on the conversation we're having at CNN Living.
and
for the latest stories and tell us what's influencing your life.
The photo shoot resulted in one of the cats scratching Tollison's husband across the head; the stress sent her stepson into a meltdown and Tollison worked up a sweat trying to wrangle the animals.
The portrait was "really disappointing," she said.
It did, however, inspire the Tollisons to take matters into their own hands. "We should just take separate photos of everyone and PhotoShop them together so we are one big happy family," Meredith said.
The next year, the family took a series of photos in the peaceful comfort of their house, where the animals could lounge around and be photographed in familiar spots. Soon, a holiday card emerged from the family computer.
"We ended up with our four animals plus one we had added and the three of us in the 'Brady Bunch' grid," she said, "with everyone looking in different directions like they did at the beginning of 'The Brady Bunch.' "
It was the start of a new tradition that has people begging to get on the Tollisons' holiday card list.
Plenty of people eschew pre-packaged holiday cards for a more personal holiday photo greeting. While parents know that getting kids to sit still long enough for a good picture is a challenge, for pet owners taking the perfect portrait can be an even greater challenge. But it gives pet parents a chance to be creative and to capture their pet's personality.
"All my friends have kids, and they simply send the pictures of their kids," said pet owner Jeff Hielsberg. "We don't have any kids, so our dog is our kid. Every year for the last 10 years he's been our card rather than us."
Hielsberg describes the family dog, Dooz, as a patient holiday card model, who knows he's an only child. Quiet and analytical, he's the kind of dog who will beg to go outside and then steal Hielsberg's chair when he goes to get the leash.
Their holiday card routine consists of Hielsberg's wife, Kim, dressing Dooz in holiday costumes like reindeer antlers or a Santa suit, then holding down their dog and jumping out of frame as Jeff crouches down to doggy-eye-level. His SLR camera on sport mode, Jeff takes as many pictures as possible in one or two seconds.
Hielsberg then prints the cards himself. He looks for Dooz's personality to shine through in the winning shot.
He said: "90% of the pictures we can't send out because the eyes alone tell a story of, 'Help me!' "
"I've seen owners try to get pictures (of their pets) and I laugh," said Rupa Kapoor, a professional photographer who specializes in high quality pet portraits. Kapoor said many of her clients at Puparazzi Portraits get pretty animated trying to elicit a certain expression from their pet while they're in her studio.
Kapoor's approach is to bring her own energy way down when she's behind the camera. "I actually don't talk to the dogs very much," she said. The less she talks, the better the shots, she said.
She even makes sure to spell out the word T-R-E-A-T when she's photographing a dog, to make sure not to break the mood with an exciting word that many dogs will recognize.
The process of getting a personalized, pet-centric holiday card is worth the hijinks, said Jacob Stickann, the proud owner of two cats and a new dog.
"The first year I made a card it was rather impulsive, so I took the photo myself," he said. With his camera on a tripod and the timer set, he tried to take a self-portrait with both cats next to him. He cleverly put cat treats on the ground so the cats would be in frame, but the ruse didn't work.
"The cats would eat the treats too fast and then get away before I was able to hold them or they would squirm out of my arms and out of the frame before the timer went off," he said.
The photo he ended up with showed one of his cats batting at a silver garland behind him and the other squirming out of his arms.
The group portrait wasn't perfect, but families never are.
Originally from – 
Holiday pet photos are a challenging treasure