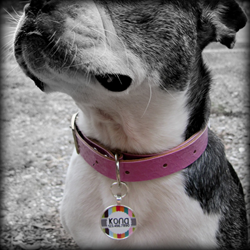 Houston, Texas (PRWEB) March 19, 2014
Funny Fur, a Houston dog boutique and pet supplies store, is offering customers a discount on all pet identification tags in honor of National Pet ID Week, April 13-19, 2014.
National Pet ID Week was started in an effort to improve the return rate of lost pets and reduce the number of pets taken to shelters.
According to the National Council on Pet Population Study and Policy (NCPPSP), of lost pets, less than 2 percent of cats and only 15 to 20 percent of dogs are returned to their owners. Most of the pets that were returned to their owners were identified with id tags, tattoos or microchips.
Using more than one identifier is the safest insurance against losing a dog or cat. A pet ID tag, registration tag or rabies tag along with an implanted microchip will ensure that if the collar with the tag is lost, any shelter, rescue group or veterinarian will be able to locate the owners.
While microchips are a permanent and reliable resource, they are invisible without a microchip reading scanner. Visible pet ID tags are the first line of defense and the fastest method of getting lost pets safely reunited with their owners.
ID tags should ideally have either the owner's name or pet's name, phone number and home address. Other important information to consider including on the tag would be a backup contact phone number, any serious health issues or medications, a reward offer or note that the pet is microchipped. Other tips include:
Keep a pet identification tag on your pet at all times
Make sure owner contact information is up to date
Have a cell phone listed as a primary contact number
Include a home address, if possible
Pet ID tags are available in an array of sizes, colors and styles. Funny Fur offers plastic, metal, 14 karat gold and sterling silver tags that are plain or decorated with colored enamel, Swarovski crystals or printed designs.
As an alternative to tags, Funny Fur also offers personalized pet collars with contact information engraved on metal buckles or embroidered on the fabric part of the collar.
Funny Fur is offering 10% off all pet ID tags during National Pet ID Week to encourage all owners to place a tag on their dog or cat.
Please visit Funny Fur's website (http://www.funnyfur.com), store Facebook page, or subscribe to their store newsletter for a full schedule of upcoming events.
About Funny Fur
Funny Fur is a premier pet supply store and boutique specializing in designer dog clothes, dog carriers, and other pet accessories for pet parents. Funny Fur also offers a great selection of all natural and holistic pet foods and treats, raw pet food, and all natural solutions for general household and pet care products. Funny Fur contributes to local animal rescues and other non-profit organizations dedicated to the wellness of animals.
This article is from: 
Funny Fur Pet Boutique Celebrates National Pet ID Week